DESCRIPTION
🧼WHITEN, SMOOTHEN, FAIR & RADIANT SKIN NOW!🧼
Say goodbye to dark rough tanned skin problems, not being able to look fresh and bright in your clothes, and not feeling beautifully confident! TAKE CHARGE and transform yourself to look radiant and healthy glowing now!  

✅ FDA Certified | Halal Approved
✅ Trusted by >5,600+ SG Ladies!

FUNCTIONS
What Women Get From This Product?
- Whiten skin by 2-3 shades (Can be used on arms, legs, neck etc. to remove stubborn dull skin tone)
- Removes tan and rough skin
- Smooth silky skin

What's In A Box:
1 box contains 1 Bar of Jellys Pure Whitening Soap (1 month supply)
(To use twice daily when bathing) - $29.90/box (Originally $49.90) 

⭐️Bundles:




👍Trial 1 month - Fairer skin (by 1 shade):
1 Box - $29.90 (Originally $49.90)


👍👍If you wish to go up by 2 shades lighter + smoother skin takes 2-3 months: 
- Normal 2 Month Bundle - $58
(Originally $61.90) per Box $29
- Intensive Signature 3 Month Bundle - $81
(Originally $92) per Box $27




👍👍👍If you want to go 4+ shades lighter + smoother silky skin:
To 3 Shades UP: 3 months bundle - $81
(Originally $92) per Box $27
To 4 Shades UP: 4 months bundle - $104
(Originally $120.90) per Box $26
To 5 Shades UP: 5 months bundle - $120
(Originally $156.90) per Box $24




Made with 100% Fresh Natural Ingredients including Skin Whitening Secret - Glutathione, Rice Milk extract, and Coco Nucifera Oil for natural whitening boost to WHITEN & SMOOTH SKIN effectively naturally now! As no chemicals are used, do be rest assured that there are no side effects.

🔥FREE SG DOORSTEP DELIVERY 🚚
(Reaches in 2-3 days with Tracking Number) 
PICTURE REVIEWS
VIRAL THAI BEAUTY PRODUCT that helped over 150,000+ satisfied customers! More than 98% of users WHITEN & SMOOTHEN SKIN in AS FAST AS 1 MONTH! Results don't rebounce!

1. USAGE ON ARMS

2. USAGE ON BODY
3. USAGE ON LEGS
VIDEO REVIEWS


PACKAGING
Each box includes:
1 Jellys Pure Whitening Soap
1 FREE Whip Net

Estimated Results for 1 Box: Fairer Skin, reduce tanness.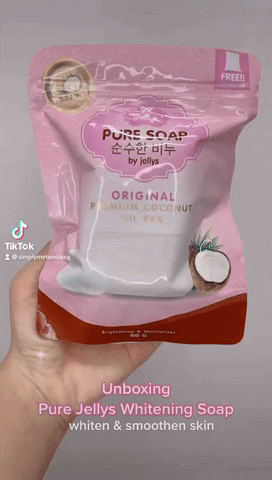 CERTIFICATES
⭐️100% Halal Certified
⭐️ SGS & FDA Approved
⭐️ Organic, Safe & Natural Ingredients
⭐️ Good Manufacturing Practice (GMP) Certified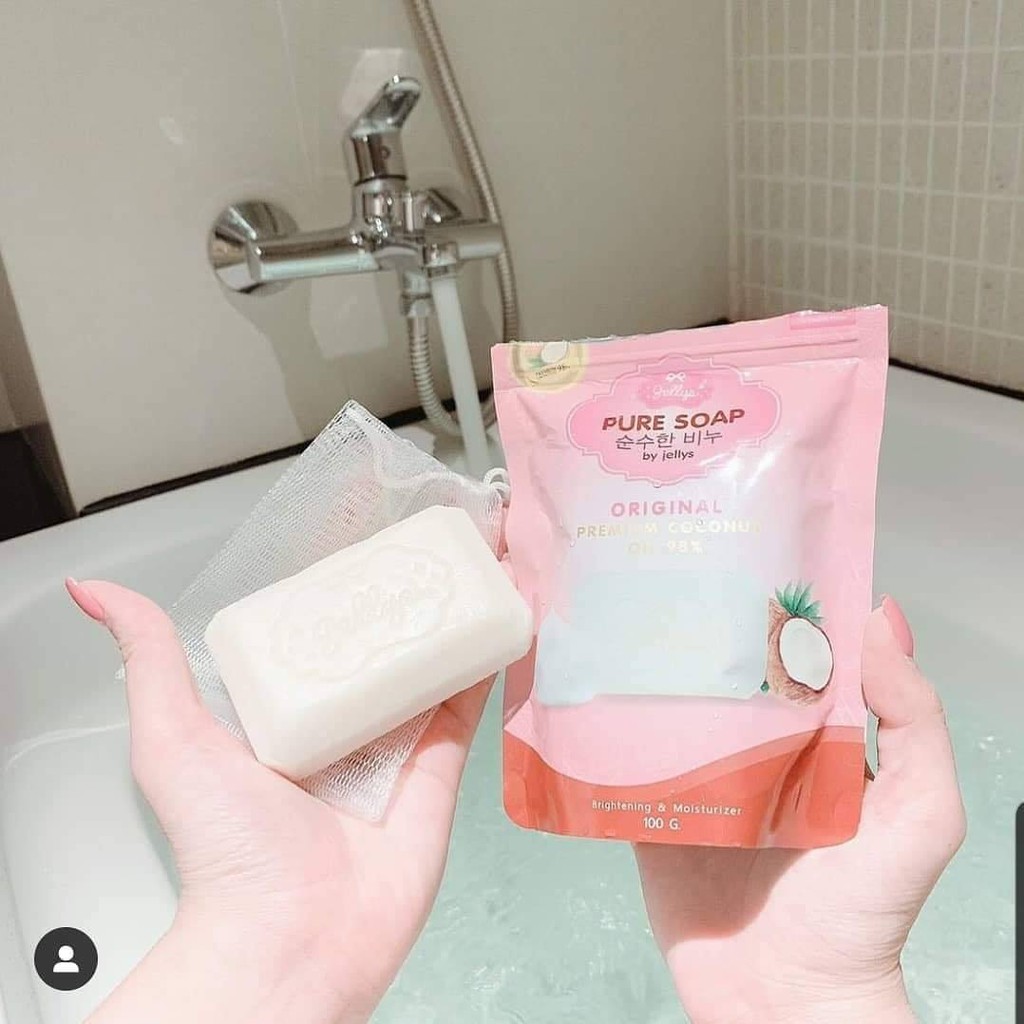 FAQ
1. I am having eczema right now can I use this? 

Hello dear! As the ingredients are mainly premium coconut oil and glutathione there are no chemicals or irritants added that will affect your skin condition. Safe and effective for sensitive skin usage as well due to its hypoallergenic properties (gentle on skin). 

2. I am a mummy of 2 kids now. Skin felt saggy and tired need something to not just whiten skin and give it glow but also to firm it up. Does this help?

Hello dear! Yes, can! Can work for you! Age is not a limit here. While it may reduce the rate of absorption because of a slightly higher age, rest assure that it will still work for you. As long as you apply them daily during bathing you will see results though may be 1 week slightly delayed because of a lower rate of absorption. This will help to firm up your skin too on top of whitening and smoothening.