DESCRIPTION
🧼THIGHTEN & WHITEN INTIMATE AREA NOW!🧼

Say goodbye to loose, dark rough, or fishy smell on intimate area problems, not being able to look "fresh" and elegant in intimacy, and not feeling beautifully confident! TAKE CHARGE and transform yourself to tighten and whiten your vagina now!  

✅ FDA & HACCP Certified | Halal Approved
✅ Trusted by >4,600+ SG Ladies!

FUNCTIONS
What Women Get From This Product?
- Restore youthful elasticity to our vagina
- Removes dark and rough edges around intimate area
- Smooth silky intimate area
- Remove unpleasant smell of intimate area

What's In A Box:
1 box contains 1 Bar of Pink Lady Intimate Soap
(2 weeks supply)
(To use twice daily when bathing) - $29.90/box
(Originally $36.90) 

⭐️Bundles:

👍Trial 1 month - Remove fishy smell from intimate area:
2 Box - $58 (Originally $73.80)

👍👍If you wish to tighten your vagina takes 2-3 months: 
- Normal 2 Month Bundle (4 Boxes) - $115
(Originally $147.60) per Box $28
- Intensive Signature 3 Month Bundle (6 Boxes) - $165
(Originally $221.40) per Box $27

👍👍👍If you want whiten your vagina:
To 1 shade UP: 3 months bundle (6 Boxes) - $165
(Originally $221.40) per Box $26
To 2 Shades UP: 4 months bundle (8 Boxes) - $215
(Originally $295.20) per Box $25
To 3 Shades UP: 5 months bundle (10 Boxes) - $255
(Originally $369.90) per Box $24

Made with 100% Fresh Natural Ingredients - Ya Hee Yoom in Thai, or "Ya Repair" which is long used in Thailand to treat women post-labor, as it is believed to help heal wounds and tears on the labia, and help to tighten the respective muscles. 




🔥FREE SG DOORSTEP DELIVERY 🚚
(Reaches in 2-3 days with Tracking Number) 
PICTURE REVIEWS
100% MONEY-BACK GUARANTEE
VIRAL THAI BEAUTY PRODUCT that helped over 150,000+ satisfied customers! More than 98% of users TIGHTEN & WHITEN INTIMATE AREA in AS FAST AS 1 MONTH! Results don't rebounce!
VIDEO REVIEWS

PACKAGING
Each box includes:
1 Pink Lady Intimate Soap

Estimated Results for 1 Box: Fairer & Smoother Intimate Area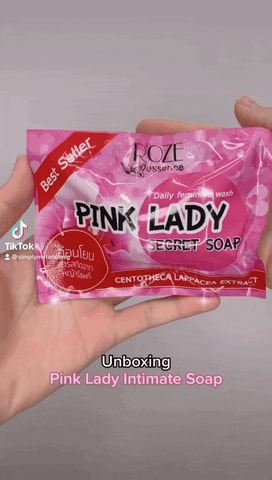 CERTIFICATES
⭐️ SGS & FDA Approved
⭐️ Organic, Safe & Natural Ingredients
⭐️ Good Manufacturing Practice (GMP) Certified

FAQ
1. I am not a mummy now haha but when having intimacy with my fiance or bf does this help? I am around 28 now.

Hello dear! There is no age limit dear for the Pink Lady Intimate Soap. This will help to tighten and whiten the edges of our vagina. Also another key thing that this solve is our problem of smell that can be revolting for the males so that's why this remove stench too and keeps our intimate areas fresh at all times and moist too when needed. Its hypoallergenic properties also ensure that it is gentle on skin and our intimate area.

2. I am a mummy of 2 kids now. My vagina feels very saggy and need something to not just whiten its edges but also to tighten it plsss. Does this help?

Hello dear! Yes, can! Can work for you! Age is not a limit here. While it may reduce the rate of absorption because of a slightly higher age, rest assure that it will still work for you. As long as you apply them daily during bathing you will see results though may be 1 week slightly delayed because of a lower rate of absorption. This will help to tighten and whiten your private part.